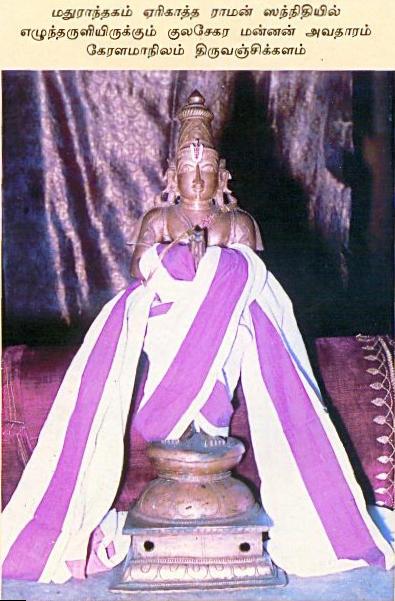 KulasekarAzhwar
KulasEkarAzhwar was born as a prince to ChEra king Dhidavradhan and nAdhanAyagi during 8 th century(?) in the month of mAsi and the nakshatram of punarpoosam(same as that of Lord Rama). The child looked divine and made everyone who saw it happier and cheerful. The entire kingdom was in a jubilant mood. The kid was named kulasEkaran and when he grew he was taught all sAstrAs, epics, arts, Tamil and Sanskrit and was also given training on fighting, Horse riding, Elephant riding, etc. In each endeavour, he excelled and came out in flying colours. When Dhidavradhan became old, kulasEkaram ascended the throne and since then he was ruling like Lord Sri Rama and brought in RamaRajyam to his kingdom. People were very happy and there was rich harvest throughout the year; there were regular rains and there was only subheeksham. Hence the citizens had great amiount of love and respect for their king kulasEkarA.
Once without knowing kulasEkarA's strengths, the neighbouring kings (Chola and pAndyA) came to fight and during the battle kulasEkaran won with no difficulty. Impressed PandyA king gave his daughter to kulasEkarA for marrying her. kulasEkarA was blessed with a son (whom he named dhidavradhan) and a daughter ILai.
One night, The Lord wished to divert kulasEkarA's attention to Him and he appeared as Lord Tirupati Venkatachalapathi in the king's dream and blessed him. The king was overwhelmed with the Lord's love and became silent and was only thinking of the Lord at all times. He became totally like water in Lotus leaf (Water never wets the Lotus leaf) and was ruling the kingdom without any attachment; He was spending his time more and more on Thiru vArAdhnam and Bhajans and listening to stories of Rama and KrishNa. He even started disliking the battles since he did not like to see more loss of lives in the battle. He started singing in Tamil and sanskrit with full of love and Bhakti in praise of the Lord. He spent his most of the time only on religious activities and attending discourses. Once when the UpanyAsakar was narrating Rama RavaNa yuddham where the battle was giong on for a long time and RavaNa was giving a tough fight, kulasEkara was so much attached to the story and it the discourse he ordered his Army General to immediately organise to send the soldiers, elephants and horses and the king was also making himself ready for the battle to give a helping hand to Sri Rama. The upanyAsakar and all others were totally perplexed and could not say anything. The upanyAsaker at last came to the king and said" O, mighty king, We need not go. The Lord Rama has already killed ravaNa and is on his way back to AyOdhyA for his pattAbhishEkam". That made the king silent and he came to normal; Such was kulasEkarA's bhakti for Rama. It is told Lord Rama appeared in his dream that night and said" kulasEkarA, I am deeply moved by your readiness to offer me help in the battle. I Sice you are having blind affection and live for me , you did not realise my Strength and parAkramam. We can win asurAs with no effort; You are acting just like LakshmaNA, who is also attached to me deeply. From today you will be called kulasEkara perumAL like ILayaperumAL LakshmaNA. Even today he is reverred as kulasEkara perumAL. The pAsurams he sang were compiled under "perumAL thirumozhi". One can see his feeling of deep regret for not being born during RamA's time in his pAsurams.
As he was getting more and more involved in Bhagavadh Bhakti and Bhagavadha Bhakti and was spending all his time in such activities, the ministers were not clear as to how to bring the king back to his administration. The king had even consecrated a Golden statute of Sri Rama in the palace where he was spending most of the time with other pundits and upanyAsakALs. Once during a Ramanavami day (the birthday of Sri Rama), the king was astonished to see a big nice Navaratna mAlai which had adorned Sri Rama missing. He was confused as to how somoen can come inside the palace with so much security and so many people around. The ministers were asked; One of them (may be the chief minister) hesitantly stammered to say" May be ..O .king........one of upanyAsakALs, or pundits...could..........have.....take...." He did not even finish his statment. The king was shivering and was literally shocked to hear that statement as if he has stepped on a Red hot burnt iron; He could not believe his ears as to how these minister can even think of these GREAT BHAKTAAS as ones who could have flicked; "What are you saying? Are you talking about these adiyArs of Sriman NARAYANA. Are you not ashamed to say that? Is your tougue still alive? How dare you think them as thieves when their love is only for th Lord and they consider the Gold and dust the same; Those UTTHAMARGAL - Do you think they have stolen the MAALAI? . He did not stop with that. He called somone to bring a pot wherein he had arranged to place a poisonous snake; Bewildered ministers obeyed. He showed them the pot with the snake inside. He said and prayed to the Lord" If the mAlai has been taken by one of the BhaktALs, let the snake bite me; If not, I will come out unscathed.". He put his hand inside the pot. The snake NEVER TOUCHED his hand. The minister came out openly saying "we are very sorry and we beg your pardon. We are the ones who removed the MALAI and put the blame on BhaktA so that you will start disliking them and will concentrate on administrative matters. Please forgive us for this irresponsible act." KulasEkarA thought silently after listening to all this and understood the underlining concern of his ministers for the kingdom and the rule. He immediately decided to bring his son into the pictute and trained him for some time before he started off his kshEtrAdanam throughout India singing Lord's Glories and GuNAs.
He visited almost all the temples and he lost his heart for Sri Rama. He has sung lullabies for Sri Rama as "RaghavanE ThAlElO!". He has even sung pAsurams on Devaki's misfortune of not able to enjoy kaNNan's leelA's and " thollai inbam" which yasOdhA was blessed with. One can greatly be moved by his pAsurams where in he longs for being born as a step in Tirupathi Lord's temple or a fish in the Holy pushkaraNi or a seNbhaga tree in Tirupathi(standing in front of the temple) or a Big stone which can not be removed so easily; He even wished to be born as a servant holding the Golden Bowl in front of Sriman nArAyaNan to spit the water after washing, girgling and cleaning His mouth in the morning. Such was his desire to serve the Lord ceaslessly and that too from a king!.( One can imagine our plight with so little(or no) material possessions and for that we walk with so much pride with even a very little achievement(which too is possible only with His grace)).
He lived till 67 years and then reached His abode and it is also told that his daughter ILai followed her father kulasEkara perumAn and was also blessed with the Lord's ThiruvaruL.
A sample pAsuram to taste the sweetness and longing deaire of AzhwAr before we conclude this post.
AnAtha selvatthu arambaiyargaL thaRsoozha
vAnALum selvamum; maNNarasum yAn vENdEn |
thEnAr poonchOlai thiruvEngadatthu chunaiyil
meenAi piRakkum vidhiyudaiyOnAvEnE ||

Such an "ARPUTHAMAANA" pAsuram. He says" I do not want to be a king even if it is to rule this earth and the "vAn lOkam" where there is great wealth, and where there are beautiful damsels dancing around; I do not wish that; All that I want is to be born as a fish in the pond (PushkaraNi) in Thirupathi (as mentioned earlier, or a tree standing in front of Thirupathi or a big rock [or at least as a tall building]).